Description
Alienware Aurora Ryzen™ Edition R10 Gaming Desktop
OPERATING SYSTEM
Available with Windows 11 or Windows 10.
MORE PROCESSOR POWER
Create and conquer: The Alienware Aurora Ryzen Edition desktop gives you the power to develop and explore new worlds with up to 16-cores, 32-threads and 72MB of total cache in the new AMD Ryzen™ 5000 series processors. Designed for powerful, intelligent and efficient gaming performance, AMD Ryzen™ processors are also ideal for livestreaming gamers who play and record simultaneously.
Automatic enhancement: Precision Boost 2 accelerates performance for intense workloads, automatically boosting CPU clock speeds on AMD Ryzen 5000 series processors. Whether your games and apps use one core or many, Precision Boost 2 is always watching temperature and power consumption to intelligently deliver the best experience.
Advanced memory technology: Your system delivers outstanding overclocking capabilities automatically thanks to DDR4 memory. DDR4 memory modules are tested at speeds to ensure they are free from manufacturing and material defects, and preset timings, included on the memory modules, enable the highest performance possible on your system. In addition, the Aurora Ryzen Edition now supports up to 128GB of memory – ideal for intensive multitasking like livestreaming while creating.
Higher bandwidth: The Aurora Ryzen Edition is the first Alienware machine to feature PCI-Express 4.0 Technology, which doubles the bandwidth available to graphics cards for enhanced overall gaming performance. Additionally, any component on your PCI-Express bus is given more bandwidth so you can experience higher performance while creating, streaming or recording.
INNOVATIVE GRAPHICS POWER, AIRFLOW, AND COOLING
The Alienware Aurora Ryzen Edition now offers optional custom graphics designs based on NVIDIA's 2nd Gen RTX architecture. These custom designs are made with extensive thermals and an innovative airflow pattern engineered to prioritize graphics performance while complementing the Aurora chassis airflow as well.
Extensive cooling: Our new thermal design includes quad 10mm copper heat pipes with integrated vapor chambers – our largest diameter heat pipe design to date – designed for exceptional gaming performance.
Innovative airflow: Another added boost for graphics performance is made possible by a dual-axial fan design with positive rear pressure relief – a new Alienware first for graphics cards. The positive rear pressure relief allows heat to escape from specially located vents designed to aid with flow and thermal management. This new approach is built with gamers in mind.
Engineered for efficiency: These custom graphics card designs, included in both NVIDIA® GeForce RTX™ 3080 and 3090 graphics, are built with space efficiency with a max length of just 267mm that covers a 2.5x slots and offers a dual 6-pin/8-pin PCI-Express power connectors. All of these choices have been made to create efficiency with uncompromised gaming performance.
Deep Learning Super Sampling (DLSS): Using AI rendering, NVIDIA® DLSS delivers a massive performance boost at the same power when compared to other graphics cards at similar resolutions.
NVIDIA Ampere Streaming Multiprocessors (SM): NVIDIA's 2nd Gen RTX graphics cards come with the building blocks for incredibly fast and efficient GPUs. The all-new Ampere SM brings higher throughput allowing for faster data processing while offering improved power efficiency when compared to previous gen graphics cards.
Resizable BAR: Resizable BAR is an advanced PCI-Express feature available on NVIDIA's 2nd Gen RTX graphics cards that enables the CPU to access the entire GPU frame buffer at once and designed to improve performance in games.
GRAPHICS CARD TECHNOLOGIES: AMD RADEON™ IMAGE SHARPENING
Detailed, Beautiful Visuals with Radeon™ Image Sharpening: Experience superior image quality with low performance impact. AMD Radeon™ Image Sharpening uses an intelligent contrast-adaptive sharpening algorithm that produces visuals that look crisp and detailed. Contrast-Adaptive Sharpening combined with optional GPU Upscaling draws out details in your favorite titles.
AMD Radeon™ Image Sharpening: AMD Radeon™ Image Sharpening (RIS) is a contrast-adaptive sharpening algorithm designed to intelligently enhance details to deliver crisp-looking visuals with minimal performance impact.
AMD Radeon™ Anti-Lag: The new Radeon Anti-Lag feature in Radeon Software is designed to help reduce input lag in GPU-limited cases. Radeon Anti-Lag controls the pace of the CPU work to make sure it doesn't get too far ahead of the GPU, reducing the amount of CPU work queued up. As a result, Radeon Anti-Lag can shrink input lag by almost a full frame, restoring the responsiveness to your game.
AMD Radeon™ FreeSync™ Technology: AMD Radeon FreeSync technology in the AMD Radeon™ RX graphics on the Alienware Aurora resolves the communication issues between processor and monitor, eliminating image tears and choppiness for effortlessly smooth gameplay.
ENGINEERED FOR AN UNENDING ADVANTAGE
A new era of engineering: The Aurora Ryzen Edition features our Legend Industrial Design with an improved airflow pattern. The Legend ID ensures airflow moves more fluidly and efficiently to reduce CPU temperatures. Lower temperatures mean performance with more stability and higher overclocking which results in higher frames per second while gaming. Additionally, the Legend Industrial Design lowers temperatures by up to 8% at the voltage regulator heatsinks over its predecessor.
Gaming made timeless: An innovative PSU swing-arm enables a variety of benefits like tool-less graphics, expansion bays and a compact chassis size. It also allows graphics cards to be perfectly positioned for purposeful airflow. We ensured the swing-arm carries the power supply which allows for airflow through the side vent, while securing and reducing vibrations to the cards themselves during shipping.
Added safety: To ensure safety and to avoid any damage or injury, we created a stop-anywhere locking mechanism on the PSU swing-arm. This prevents the swing-arm from falling or swinging while in use.
LEGENDS LIVE ON
The future of design: The Legend Industrial Design is a return to Alienware's roots, with a look that pushes Aurora into a new realm. The unique design helps avid gamers stand out from the crowd thanks to bold, continuous lighting and the iconic central loop of AlienFX that unleashes dynamic LED lighting. Additionally, functional front airways and hexagonal-shaped side venting boost intake efficiency and maximize air movement.
Legendary colors: Choose from two different ultra-smooth, satin-finished colors: Lunar Light (with extra Alienware wordmark lighting zone) or Dark Side of the Moon.
Enhanced usability: By moving the ports from the top of the system to the front, the Aurora gives users easier access, while surrounding lighting helps identify which ports are already occupied.
PERFORMANCE THAT RISES BEYOND
Push power further: The Alienware Aurora Ryzen Edition desktop is designed to fully support custom upgrades, including dual graphics and liquid-cooled CPU overclocking so you can push your system to extreme levels of power without worrying about overheating. For even higher levels of power efficiency, the optional 1000W power supply is 80 PLUS Gold rated and designed to deliver exceptional performance thanks to a high-quality signal going into each of your components.
Killer connections: The optional Killer™ Wireless comes equipped with Bluetooth® 5.1 technology and uses the Wi-Fi 6 standard (802.11ax) for an incredibly high-performance wireless connection. Used in combination with Killer™ E2600 Ethernet LAN (standard on the motherboard), you can enable Killer™ DoubleShot Pro technology, which routes critical connections through Ethernet and less critical connections through Wi-Fi.
Superior speed & storage: Experience incredibly fast load times with up to 4TB of total storage space with a combo option that features PCIe NVMe SSDs and a 7200RPM hard drive. The Aurora Ryzen Edition desktop also offers various configurations with SSDs as the main bootable drive and a larger secondary drive to house all your media, games and additional files.
ALIENWARE COMMAND CENTER
The Alienware Command Center is continuously updated. Our latest version now includes features specifically desired by the gaming community with auto-tuned game profiles, a new responsive UI, intuitive overclocking options and all-new AlienFX settings.
Thermal control
Observe and edit your system's thermal profiles for performance-optimized airflow. The rear and top vents of the Alienware Aurora work as exhaust to keep temperatures in ideal ranges by removing heat from the system. The front and side vents simultaneously take in cool air to enable high performance and maintain system health.
Optimal overclocking
The Alienware Command Center includes an easy and intuitive overclocking control module that allows the user to quickly squeeze additional performance out of their graphics and memory. Create your own system overclocking profiles, then easily control your system's performance.
Enhanced AlienFX
The latest AlienFX hardware and software supports full RGB values with up to 16.8 million colors. Easily manage your FX lighting zones, edit peripheral settings and save new themes for each game.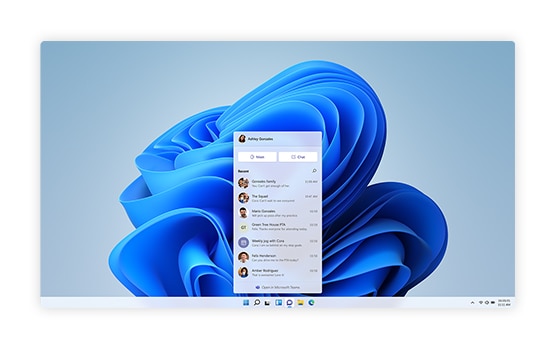 THEIR LATEST. OUR GREATEST.
Dynamic doesn't begin to describe this duo. Together, Windows 11 and Dell PCs create a best-in-class experience.
A fresh perspective
An inspiring new look and feel makes for a calmer experience.
Balance your life
Refocus your workflow with snap assistant. Or Switch between desktops for greater organization of open windows.
Life's better together
Call, chat, and make plans come to life with Teams on Windows 11* right from your PC regardless of what computer or phone or tablet they are on.*
PORTS & SLOTS
Front Ports
1. 2x Type-A USB 3.2 Gen 1 | 2. Type-A USB 3.2 Gen 1 Ports with Powershare technology | 3. Type-C USB 3.2 Gen 1 Ports with Powershare technology | 4. Headphone/Line Out | 5. Microphone/Line In
Rear Ports
6. SPDIF Digital Output (Coax) | 7. SPDIF Digital Output (TOSLINK) | 8. RJ-45 Killer E2600 Gigabit Ethernet | 9. 6x Type-A USB 2.0 Ports | 10. Type-C USB 3.2 Gen 2 with Powershare technology (up to 15W) | 11. Type-A USB 3.2 Gen 2 | 12. Side Surround Output | 13. Microphone In | 14. Line Out | 15. 3x Type-A USB 3.2 Gen 1 | 16. Rear Surround Output | 17. Center/Subwoofer Output | 18. Line in
*IO ports subject to graphics card selected.
DIMENSIONS & WEIGHT
1. Height: 18.9″ (481.6mm) | 2. Width: 8.771″ (222.8mm) | 3. Length: 17″ (431.9mm) | Volume: 33.8 L | Maximum Weight: 39.2 lb (17.8 kg)
*
HIGH-PERFORMANCE GAMING ACCESSORIES
Alienware 27 Gaming Monitor | AW2721D
Dive into every battle with a 27″ QHD, InfinityEdge display, NVIDIA® G-SYNC® ULTIMATE certification, a lightning-fast 240Hz refresh rate and a true 1ms GtG response time and take gaming to the next level.
ALIENWARE 38 CURVED GAMING MONITOR | AW3821DW
Get lost in your game on an expansive 37.5″ WQHD+ curved screen with NVIDIA® G-SYNC® ULTIMATE, VESA DisplayHDR™ 600 with localized dimming and IPS Nano Color for a truly immersive gaming experience.
Alienware 55 OLED Gaming Monitor | AW5520QF
Experience gaming of monstrous proportions on the world's first 55 inch OLED gaming monitor with 120Hz refresh rate, 4K resolution and Alienware Legend Industrial Design.
ALIENWARE LOW-PROFILE RGB MECHANICAL GAMING KEYBOARD | AW510K
Fly your colors on the battlefield with fully customizable AlienFX low profile RGB lighting that gives you a choice of up to 16.8m colors per key via Alienware Command Center Software and a tricked-out setup that brings you deeper into the action.
Alienware 7.1 Gaming Headset | AW510H
Get engrossed in your games on the Alienware 7.1 Gaming Headset, showcasing 7.1 surround sound with Alienware Cosmic Sound technology.
Alienware Wired/Wireless Gaming Mouse | AW610M
Get performance that takes no prisoners on a wired or wireless gaming mouse with rechargeable lithium ion battery and 7 fully programmable buttons.
Technical Specifications
AMD® Ryzen™ 7 5800
Windows 11 Home
NVIDIA® GeForce RTX™ 3060, 12 GB GDDR6
16 GB, 1 x 16 GB, DDR4, 3200 MHz, XMP
512 GB, M.2, PCIe NVMe, SSD